From boutique design to living room decoration, the agency created in 2018 by mélanie maria and marine rilos madignier uses their creativity and technical expertise to design lively and elegant spaces.
Atelier Madame is the confluence of two unique paths. When Mélanie Maria and Marine Rilos Madignier meet in a professional context, the first is in charge of works in a large company and the second is an interior designer in an agency in the Paris region.
Very quickly, both clients and service providers, the two women become friends and decide to embark on a crazy entrepreneurial adventure together by giving birth to Atelier Madame. With this name, they immediately define their way of working between originality and closeness. Today, Atelier Madame wears the double hat of interior designer and project manager, addressing both professionals and individuals and also offering services such as consulting and personal shopping.
Strong integration
The identity of the interior design and decoration agency thrives on this unique union that the two women form together and that is reflected in their projects with a free-spirited aesthetic married to sharp design. "Marin brings her wonderful creativity and I take care of everything technical," confirms Melanie Maria.
Achievements delivered
For them, it is not enough to create beautiful interiors, "our designs must be practical above all, so we always accurately imagine what life will be like in the place where we work" explains Melanie Maria. From taking dimensions to receiving a project, Atelier Madame oversees construction sites from the ground up and beyond.
Today, ATELIER MadAME wears the double hat of an interior designer and project manager
"The main thing for us is the satisfaction of our customers; that is why we provide all our projects turnkey and are always present for the following times" says the duo. A perfection that has already earned them the trust of the great names to design their stores such as Frichti, Palais des thés, Free or Glasses for all.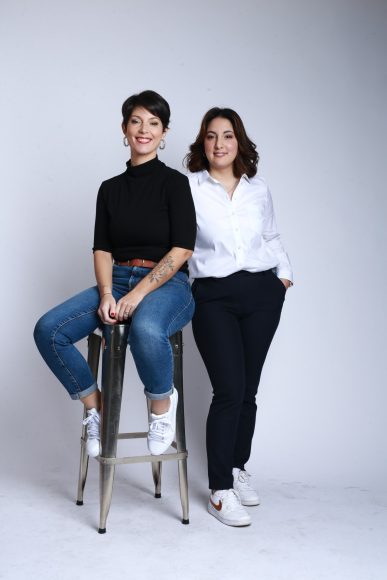 A feminine touch in an amazing world
Craftsmen, thinkers, decorators … Behind Atelier Madame, there are also more than fifty professions in which the agency works regularly. And if this world is predominantly male, the two women have managed to carve out a good place for themselves: "Each of our creations is christened with the first name of a man, it's a way of honoring them because we work with them on a daily basis," confirms Marin Relos Madinier.
ode to color
Atelier Madame Touch? This good knowledge of colorimetry to enhance interior design. "Color has a tendency to be feared, which is why we do a lot of support work to find the tone that represents a bias while remaining timeless," acknowledges Marine Rilos Madignier.
instagram:inst_ateliermadame